Contact us
If you'd like more information about our concerts or anything else relating to KSO, please get in touch.
For press and PR enquiries, email Ria Hopkinson at press@kso.org.uk.
If you're interested in playing with KSO, see below.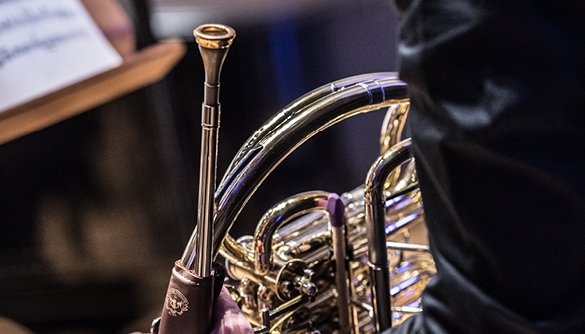 Join the orchestra
If you're interested in playing with KSO, please read the information below, then use the links to contact the relevant fixer for your section.
We're currently looking for more double-bass players, so please contact us if you are an experienced player of a high standard and would like to join us. We would also welcome contacts from violinists and cellists to increase our numbers for some concerts.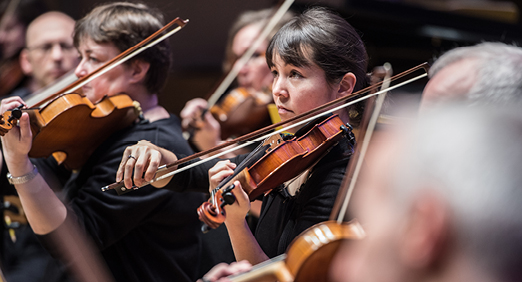 © Sim Canetty-Clarke
How might I start playing with KSO?
We are always pleased to hear from new players and you don't need to know anyone in the orchestra to approach us. All we ask is that you understand the high level of achievement we aim for and fulfil the promises you make to attend.
We don't usually audition players, but we like to give them a chance to get to know us, and we them. In the wind section, for example, you might attend a rehearsal as a dep, and perhaps then play a concert, and you might then become a regular. In the strings, you might be offered the chance to play in a run of rehearsals and a concert before potentially being invited back.
It would be helpful if you have been to one of our concerts, but we may be able to arrange for you to observe a rehearsal as well.
Please contact the appropriate fixer using the buttons below, indicating your standard, experience and availability, plus the range of instruments you play and can access (for example, if you are a trumpeter, do you have a flugel horn, piccolo trumpet or cornet?).
We don't want to over-promise, as we already have a strong list, but we're happy to hear from anyone committed to excellent music-making.